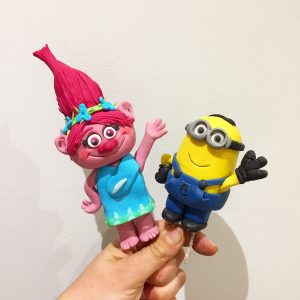 Cake Toppers
Description
Cake toppers are handmade by me using a variety to different materials, depending on the design and size of your topper and the position of the topper on your cake.
All toppers will be edible, and some you will be able to keep longer than other. Please ask for more information when ordering.
I have made a lot of different toppers, so if there is anything specific you would like, please ask and i can price up your topper individually.
Toppers are priced in addition to your cake price, and again the cost of these vary depending on the size and the intricate detail involve in making them.
A guideline of prices is as follows – please note that this is only a guideline as your topper may vary in size and detail, but this is a general idea.
Basic animal toppers -£20 each and are roughly a size of 3/4″ in height

Large number toppers – £10

Minions – £20

Peter Rabbit

 

– £30 (and other characters in Peter Rabbit)

Detailed characters such as Disney Characters range from £30 +

Real people figures – £35

Wedding couples – £75
Please get in contact to ask about specific toppers and prices.